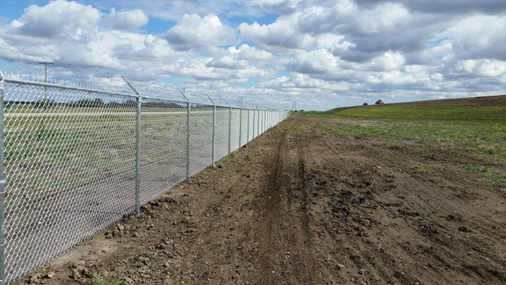 Chain Link Fence
Exact Fencing supplies and installs chain link fence in the Saskatchewan area for commercial, residential and recreational applications.
Chain link – Residential – Galvanized
We provide maintenance-free chain link to add beauty and security to your residential property. For the same price, you can have white, black, green, brown vinyl coated chain link fabric installed on a galvanized framework. Heights: 3', 3.6', 4', 5', and 6'.
Chain link – Residential – Gates
Residential gates are available in several different styles with many different combinations of widths and heights. There are various options for gate styles including Single Swing, Double Swing, Slide Cantilever, and Rolo.
Chain link – Residential – Full Colour
Full-Colour System, Vinyl coated chain link fabric, on a powder-coated framework. This enhances the beauty of a chain link fence.
Chain link – Industrial & Commercial – Galvanized
From the smallest fencing requirements to major bonded projects, call Exact Fencing for expert advice and cost estimates. Experts in project planning, product and specification selection, scope definition, and costing.
Chain link – Industrial & Commercial – Gates
Cantilever Gates | Rolo Gates | Single Swing Gates
Chain link – Industrial & Commercial – Modular Panel
Applications
Oilfield: Wellheads, tanks, valves, meter stations, etc.| Construction: Hoarding excavations, equipment, and material storage | Other: Garden centers, temporary sales areas, transformers, and substations.
Various styles of Privacy Slats can be installed into the Chain Link for increased privacy and aesthetics. If you want a great-looking fence that will last, call us for a free estimate or with any questions you may have.
Vinyl Fence
Exact Fencing specializes in Vinyl Fence in various colours, heights, and specifications for Residential and Commercial applications. Vinyl Fence is maintenance-free and engineered for superior strength and durability. Dirt is easily sprayed off of vinyl fences due to their glossy, non-porous surfaces. These same qualities make it easy to remove graffiti. Vinyl fences won't split or crack. They don't get termite damage, fungus, or dry rot and you don't need to paint them!
Comes in a variety of styles:
• Sentry Full Privacy
• Estate – Privacy + Picket Accent
• Manor Privacy + Lattice Accent
• Picket
• Ranch Rail
We also have:
• Planter Boxes
• Arbors
To make your yard look great and match your fence. Commercial specifications are available upon request which accommodates additional fence heights (8′-12′) and accents.
Why Choose Vinyl Fence, Deck, and Railing:
• Maintenance Free
• Cost-Efficient – Enhances Property Value
• Lifetime Transferable Warranty
• Beautiful Styling
• Environmentally Friendly
• Premium Extruded Vinyl
• Local Manufacturing & Large Stock Inventory
• Suitable for Residential & Commercial Applications
• Comparable to wood pricing
Exact Fencing Ltd. utilizes Westech Building Products – an industry leader in the extrusion of vinyl fence, deck & railing profiles. All Vinyl materials are guaranteed by Westech with a Lifetime Transferable Warranty.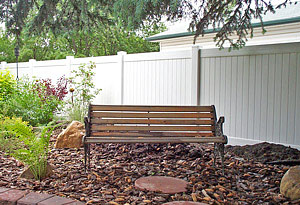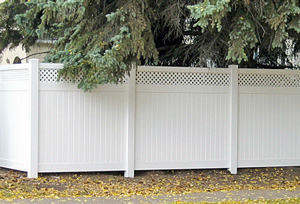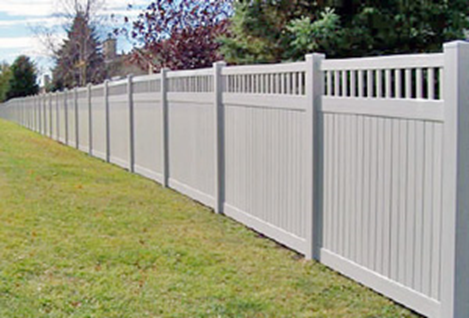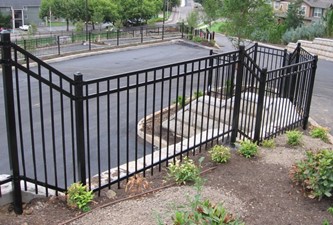 Ornamental Fence
Ornamental Fence is what was called "Wrought Iron" in the past. Although similar in appearance, today's Ornamental Fence is a dramatically improved product. Because of significant advancements in materials, manufacturing processes, and paint technology, it is more durable and economical. It has a very elegant appearance and is popular as a semi-privacy fence.
Typical applications include individual residential properties, governmental and institutional facilities, large residential developments, multi-dwelling, and condominium complexes.
We sell and install Ameristar Fence Products and Iron Eagle Industries. Each manufacturer offers various grades and specifications of Fence and Gate Systems. Call us with your specifications or questions and we can book an appointment to make a free estimate.
Commercial Industrial
Ornamental Iron Fence is popular in the Commercial and Industrial sectors. Typical applications include big box stores, garden centers, governmental and institutional facilities, large residential developments, individual commercial businesses, multi-dwelling, and condominium complexes.at Exact Fencing, we have the fence to suit your exact needs.
Agricultural Fences
One of our specialties at Exact Fencing ltd. is Agricultural Fence Products including Farm Field Fence, Game Fence, Horse Fence, Barbed Wire, and Farm Gates.
Agricultural Fence – Wire Fence – 12 1/2 Gauge Standard Farm Field Fence
The principle of wire fences is that they are supported mainly by tension, being stretched between heavy strutted or guy-wired posts at ends, corners, and ideally at intervals.
From 26" to 55" high. Call for more details.
None in stock – by order only – Custom orders allow two weeks delivery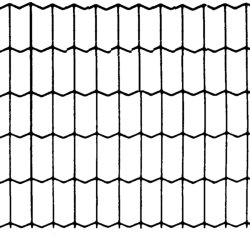 Agricultural Fence – Wire Fence – 12 1/2 Gauge High Tensile
High tensile wire fencing is one of the strongest and most secure forms of agricultural fencing, constructed from steel rods to prevent sagging or elongating of the wire. Farmers often choose this fence as their preferred way to keep livestock safe and under control. It has more carbon in the wiring which makes it stronger.
From 47" high to 78" high.
Agricultural Fence – Wire Fence – 14 Gauge High Tensile
(Higher gauge has a thinner wire)
From 32" high to 47" high.
Agricultural Fence – Wire Fence – Fixed Knot Fence
Livestock & game fence is a high-tensile fence with a fixed knot, which holds the vertical stay wires securely in place. The line wires are available in a variety of spacing options, including narrow spaces close to the ground for smaller animals. FIXED-KNOT fencing is designed specifically for wildlife and is not a domestic livestock fence being used as a wildlife fence. Here is the ultimate in fencing for all animals, large or small, wild or domestic. FIXED-KNOT, a North American product, gives excellent control for animal containment, exclusion, and protection from predators.
From 42" high to 96" high.
Agricultural Fence – Wire Fence – Non-Climbable Welded Lawn Fence
From 36" high to 72" high.
Chainlink – Privacy Products
Top Locking Slat
• Features These vinyl slats are inserted into chain link fence to block the view into your property and look aesthetically pleasing. The locking system is located near the top of the slats to ensure a clean, straight edge along the top of the fence.
• Colours: Stocked colours are green, white, brown, black, beige, grey, and redwood in 4, 5, and 6-foot heights. Other heights (from 3′ to 12′) and light blue colour available upon request.
• Warranty 25-year pro-rata against breakage.
Maximum Slat
When you need increased privacy, our Maximum Slats are the answer. They have "wings" for extra screening and security. These slats are installed using a bottom channel system…
• Stock colours include green, white, brown, black, beige, and grey.
• Warranty This product carries a 25-year pro-rated warranty against breakage under normal conditions.
• Height Maximum slats are manufactured for fences 3′ to 6′ high.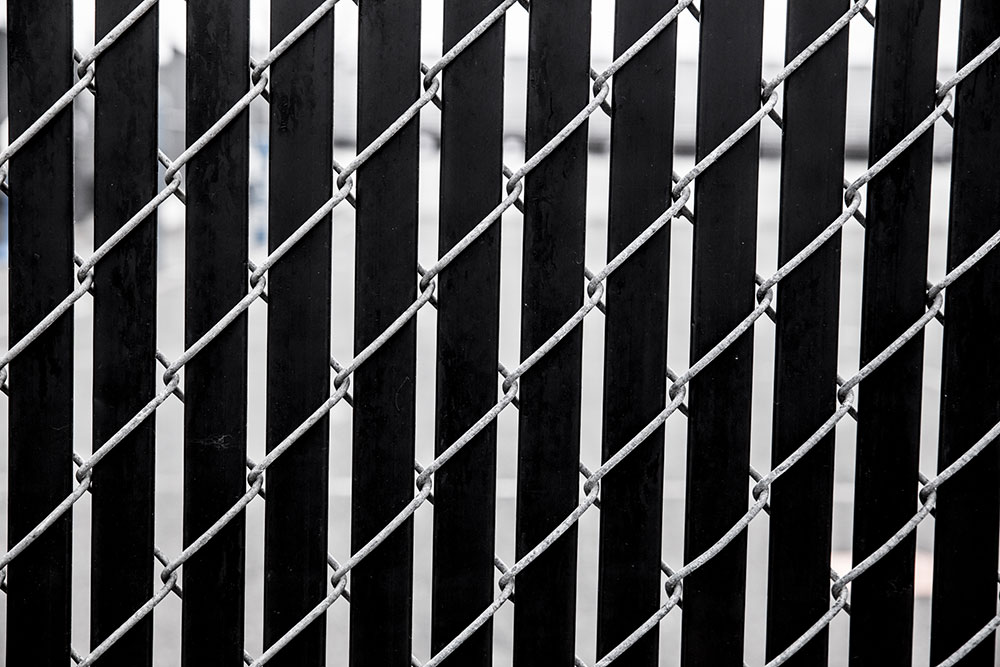 Hedge Link
Hedge link looks like a finely trimmed evergreen hedge that blends in the natural foliage and obscures the view into your property.
Warranty: 10-year warranty.
Fence Weave
Converts chain link fence to privacy fence
Colours: White, Black, Brown, Green, Beige, Grey, Yellow, and Redwood.
Warranty: 25-year warranty
Safety Top Cap
Our newest product serves two purposes. First, the unique design protects against injury by covering the barbs on top of the chain link fence, and also it acts as a decorative trim.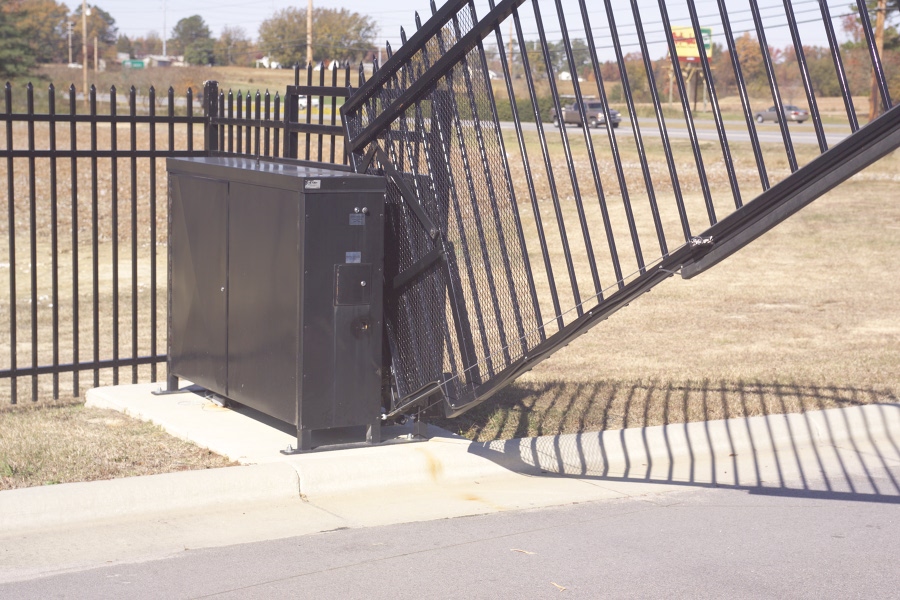 Auto Gate Systems
Slide Gate Operators
Can offer to haul gates up to 2500lbs with heaters that make them able to work in all weather conditions. From a basic radio-controlled system to a fully monitored, remotely accessed, multi-unit system, we offer a variety of solutions for custom-powered gate projects.
Swing Gate Operators
We offer a reliable residential swing gate operator, perfect for your home or business to move a gate that weighs as much as 800lbs and comes with a battery backup just in case the power goes out you can still get into the gate. We also offer industrial swing gate operators that move a gate up to 1200lbs. From a basic radio-controlled system to a fully monitored, remotely accessed, multi-unit system, we offer the solutions you need and want.
Vertical Pivot Gate
Even in extreme cold and snow, the Vertical Pivot Gate will operate. This makes it a very reliable security measure for your home, business, or industrial site. Gates can be custom manufactured in lengths up to 20′ in steel and 24′ in aluminum. With an anti-climb design and all models have open and close cycles that range from 10-12 seconds, this makes the Vertical Pivot Gate one of the leading entrance security measures.
Barrier Arms
We offer options great for driveways and parkades. The BG790 is great for your larger applications such as security gates and blocking off large roadways. Both of these barrier arm options are very reliable. We also have great barrier arms for security shacks, parking garages and much more.
Accessories
We offer a wide variety of products to enter and exit your automatic gate. Anything from a one-button remote to a keypad that holds up to 480 codes. All accessories can be built to work with any gate operator that we offer, making it easy to meet your every automated need.
• Remotes
• Keypads
• Loops
• Photo Eyes/Sensing Edge